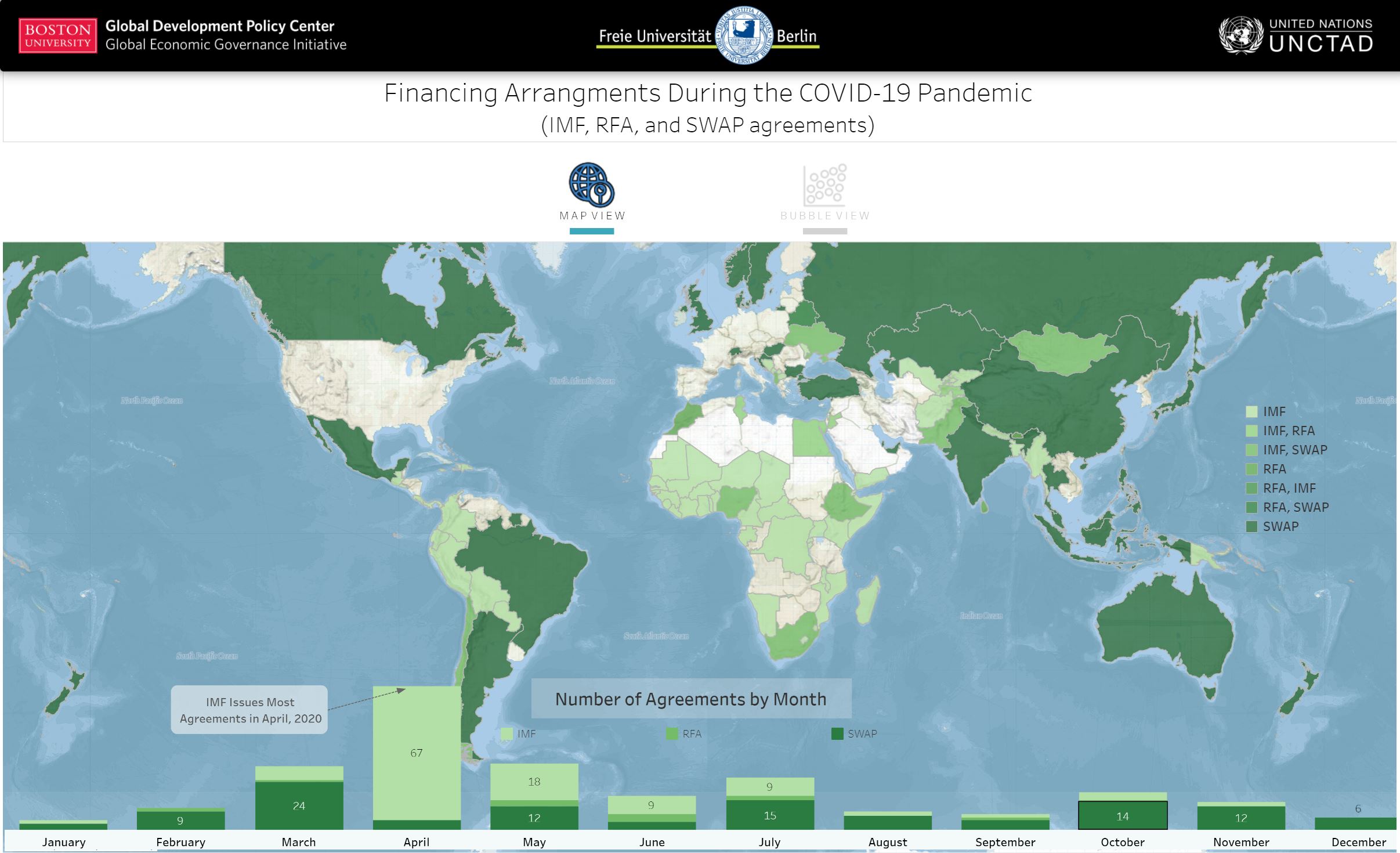 Using real-time tracking, the GFSN tracker identifies relevant sources of liquidity for all UN member countries, being particularly useful for the most vulnerable countries during and after the pandemic. The GFSN encompasses Regional Financial Agreements (RFAs), bilateral currency swaps between central banks, crisis lending by multilateral development banks, bilateral short-term loans, repo agreements including with the Federal Reserve Bank, and hedging instruments by central banks.
The Global Financial Safety Net (GFSN) tracker (www.gfsntracker.com) is compiled by the Institute for Latin American Studies at Freie Universität Berlin and the Global Development Policy Center at Boston University, within the project.
Uniquely, the GFSN tracker provides comprehensive information on short-term external liquidity provision at the global, regional and the bilateral level, i.e. International Monetary Fund (IMF) lending lines, Regional Financial Agreements (RFA) and central bank currency swaps for all UN member coun­tries.   It pro­vides regularly updated information both on potential lending capacity and on actual utilization of liquidity sources, which together make up the global safety net. Country specific infor­mation on approved loan amounts by RFAs and the IMF is updated and shown in different interactive graphs and analytical categories.
The GFSN tracker allows each member country to know its relative position in terms of uncoordinated short-term liquidity provision

. This information could help mitigate the risk of mistakenly categorizing a solvency crisis as a liquidity crisis.

The GFSN tracker lays bare the inequities and inefficiencies of the international financial architecture (IFA) in the provision of short-term liquidity with member states in Sub-Saharan Africa; the Middle East & North Africa; and Latin America and the Caribbean, having the least amount of liquidity provision available to them in relative terms. The GFSN tracker shows that LICs, concentrated in these regions, might rather need debt cancellation and grants.

The UN has also been a long-standing forum and democratic space for discussion of reforms in the IFA, and the GFSN tracker provides information exposing the problems with liquidity gaps and conditionalities that need further reform.